This article is part 2 in the three part series on Death Depicted in Cemetery Symbolism. Read part 1.
Wolf Tables – More than Markers of Burial Plots
While not so much a symbol as a practical device, wolf stones and wolf tables do remind us of the mortality of the flesh. These devices were used where thin soil and/or rocky terrain prevented the digging of deep graves. Here's a photo of me sitting on a wolf table at a cemetery in Camden, NJ.
(Before this cemetery received an overhaul, it had a 4 x 8 sheet of plywood at the entrance, on which was painted the message: "No unauthorized burials permitted.")
Stone slabs over graves offered some protection from scavenging wolves. Ben Franklin's grave in Christ Church burial ground in Philadelphia is an example of a wolf stone. While it may seem a quaint practice to toss a penny onto his grave ("A penny saved is a penny earned"), the Christ Church Preservation Trust actually rakes up about $1800 a year, which helps defray the cost of site maintenance!
Cemetery Gate (Through which Souls Pass)
Another guardian of the grave is the cemetery gate. As you can see from the photo, cemetery gates can be just plain creepy, whether they be an entrance to a fenced family plot or a main gate. A gate or a barred entrance can symbolize the gates of Heaven; the entrance of the departed into the afterlife. This gate is that of the Baltimore National Cemetery.
In the late 1800s, people were just dying to get into Historic Laurel Hill Cemetery in Philadelphia. One of the entrance gates had to be equipped with a turnstile in order to control the flow of horse-drawn carriage visitors into the cemetery!
In the Victorian era (roughly 1837 to 1901), the cemetery was the place to spend a quiet afternoon, as there were no arboretums, parks or museums to provide bucolic getaways from the noisy cities. That is, until the time came that the huge number of visitors and tourists forced Laurel Hill to begin issuing gate passes to lot holders and restricting Sunday visits to family members! (Read more about Laurel Hill Cemetery.)
Read more: The Very Quiet Baltimoreans: A Guide to the Historic Cemeteries and Burial Sites of Baltimore
Women and the Art of Mourning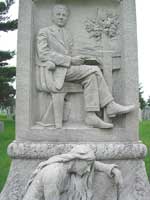 As men are not allowed to be wholly emotional beings in Western society, women appear to be the designated grievers. This is why there are so many more melancholy women than men depicted in symbolic cemetery memorials. Apart from the odd centurion or archangel, men are typically characterized as their successful earthly selves.
For more on this topic, please see the book Saving Graces: Images of Women European Cemeteries by David Robinson.
Babies, Children, and Cherubs
Another of the famous rural Victorian garden cemeteries (actually the first of its kind in the U.S.) is Mount Auburn Cemetery in Cambridge, Massachusetts. Mount Auburn Cherub was photographed here. Babies, Children, and Cherubs typically represent the untimely death of a child. As such, the symbol can invoke only sadness and death.
Walking through old American cemeteries, it is not unusual to see many hundred-year-old tombstones of children who died before they were two years old-sometimes from the same family as we see in the photo to the left.
We don't see this as much today since childhood mortality is much lower than it was in the 1800s–mainly due to better living conditions, prenatal care, and vaccinations. Mount Auburn Cemetery (est. 1831), just outside Boston on the Harvard campus, is the nation's first landscaped or "garden" cemetery. The inception of these outdoor sculpture gardens became a catalyst as well as repository for symbolism new and old.
Read more about Mount Auburn Cemetery: Portsmouth Cemeteries (Images of America) by Glenn A. Knoblock